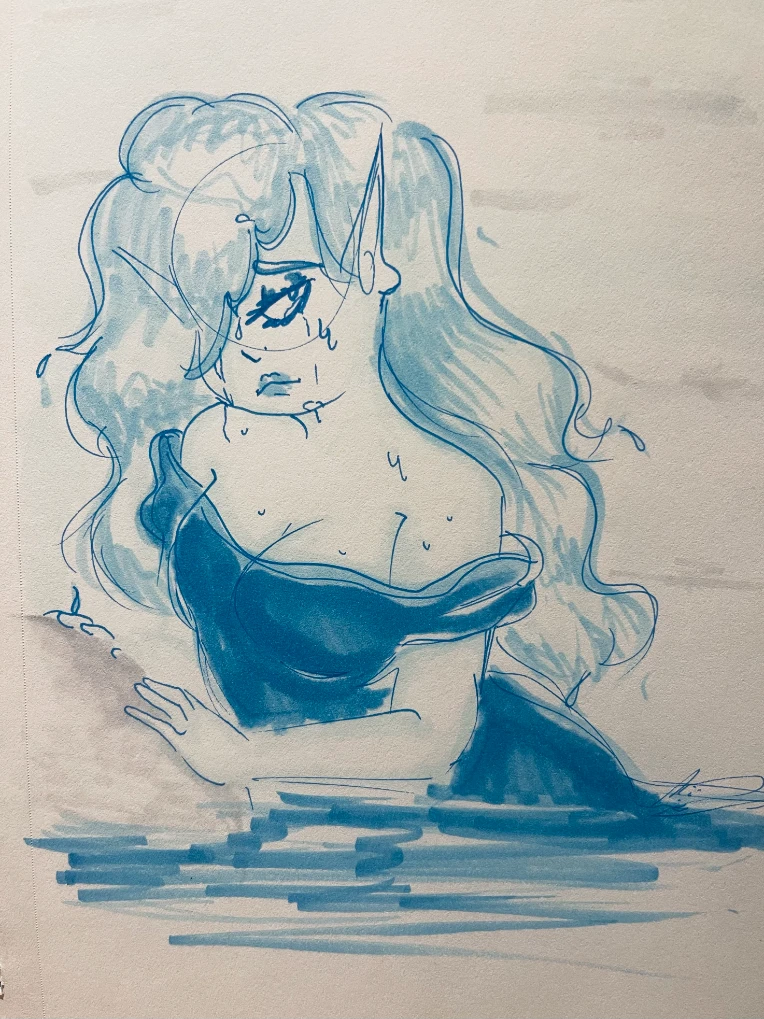 A sketch of my OC, Serena back in March. She's mainly used for venting out my feelings, so she does not have a consistent appearance.
She looks the way however I'd like depending on how I feel.
Let me tell you all a little something,
This year, I had entered previous competitions.
Despite my best of efforts... I eventually never technically won in the end. At the time of typing this, I have accepted those loses.
Although I went in these contests knowing full well I could possibly not be a winner... It did grate on me that I didn't win. It was to the point it gave me a sense of inferiority from other 'winning' artists who entered the competition. It made me cower and wonder about myself for a bit.
Questions such as "Am I not good enough?" // "Am I not worthy of being a winner?" // "Does this contest define me?"
I had to vent to my older sister about how inferior I felt to other people, I let myself slip, I let these contests make me forget my own worth.
She asks, "What about the other contestants that entered and didn't win anything...? Are they inferior too?"
Just those questions alone made me think. Of course they aren't. They're still practicing their craft, like it or not. Win or loss, they got up and did something in hopes of entertaining people.
It also reinforced my feelings about how I believe creatives are valuable in this world.
So many wonderful creations are done by one's own blood sweat and tears, for all we know, someone could've had the most horrible work day, a close one die a week ago, and not own a computer of their own- yet still manage to make the most beautiful creations. For me, artwork isn't all about being created so it can be judged, it's mostly to take in and enjoy. Of course, that's not to say you shouldn't take constructive critique so you can improve.
Improvement is key. It's a great thing to do. You're not hopeless because you can always do better next time. As long as you keep going, you will improve.
You're most definitely allowed to be distraught for your losses. You can even take what people say as motivation to get better.
I trust that you know what I mean.
Today's unnamed could be tomorrow's winner. Today's amateur could be tomorrow's professional.
However, I do know that- with time, I probably will forget my own advice and words many times throughout my career. I've come to the conclusion that experiencing that several times is normal, it just sucks having to go through it.
Adulthood is all about giving yourself consistent reminders after all. That's why I'm saying this today.
To remind myself [and possibly whoever is reading this] about our worth.
If you really think about it, your identity shouldn't revolve around just one or a few things that won't matter in the long run.
You're allowed to feel sad about for the things you cannot control.
What matters in the end, is little things you do that make others appreciate you for YOU. I trust you know who you are better than anyone.
You're loved and appreciated, even if you forget. Even if you're feeling your worst.
Goodnight. See you on the flipside. I'll be busy, so happy creating <3